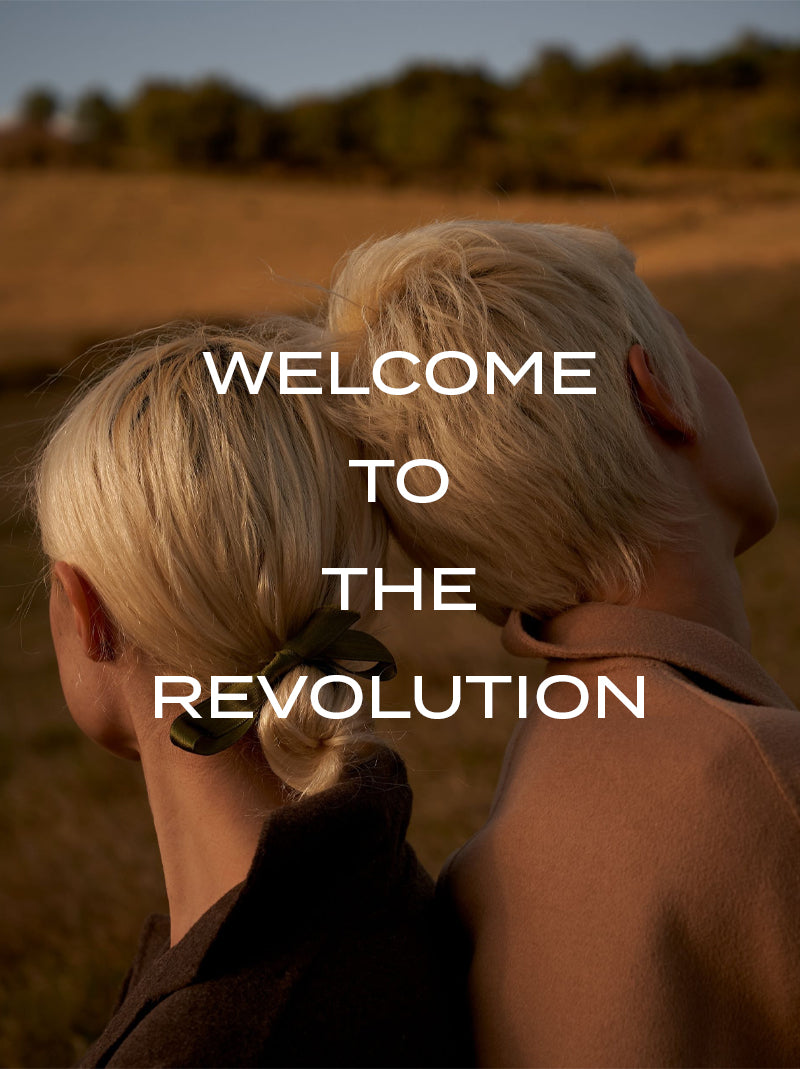 Community
We partner with six suppliers across India, Thailand, Italy and China to produce our jewellery and packaging. As a rule, we only work with suppliers who can commit to the social and environmental standards set out in our Supplier Code of Conduct, in line with the International Labour Organisation guidelines. 
So how do we make this happen? First up, all of our partner producers are required to answer our internal Supplier Questionnaire. This questionnaire includes detailed information about the workers, their wages and benefits, as well as the production facility and how it is run, including health and safety processes that are in place. The suppliers are then required to submit third party audits and proof of any certifications they have achieved. 
Half of our jewellery suppliers are Responsible Jewellery Council certified and we are working with the remaining 50% to see how we can help them achieve this, too. The reality is, smaller production facilities can't commit to these certifications due to time and cost constraints; so, instead of ignoring these limitations, we're looking to support these suppliers to achieve certifications that will help their business too. It's a privilege to be armed with such a wealth of knowledge on sustainability and by sharing this with others we hope to create a ripple effect. 
We couldn't do it without our loyal customers, though. Involving our wider community is a crucial part of our responsibility journey, so we've set up initiatives such as our RE/Make jewellery recycling programme to get everyone involved. We understand that as a consumer it can be difficult and costly to make the 'sustainable' choice, so we want to make it as accessible as possible. 
We're also learning from our customers! We run bi-annual customer surveys which include questions about our sustainable initiatives and general brand activities. This gives our audience the opportunity to give us any feedback they may have on how we run the business. 
We are pretty proud of what we've achieved so far, but we know there's a way to go. Here's a list of the community-focused goals we've set ourselves this year – with an aim to hit these milestones by the end of 2025.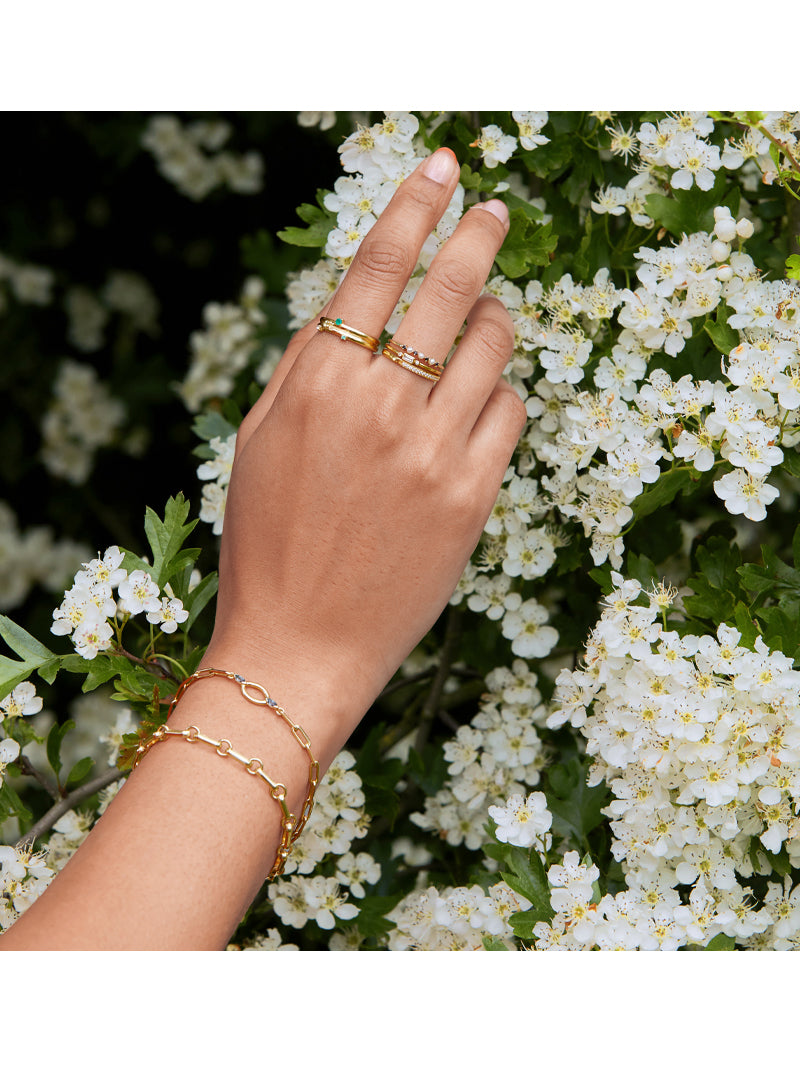 Our future goals
GOAL 1:
Implement a more stringent due-diligence process to ensure suppliers share evidence supporting their social and environmental commitments.
GOAL 2:
Update our Supplier Code of Conduct to include managing risks related to conflict-minerals, share this with our suppliers and ensure they have management processes in place to meet our requirements.
GOAL 3:
Add charitable donations to our website, to give customers the option to easily donate to a cause they care about.
GOAL 4:
Implement environmental commitments linked to customer's purchasing.
GOAL 5:
Host environmental and social initiatives our customers can get involved with.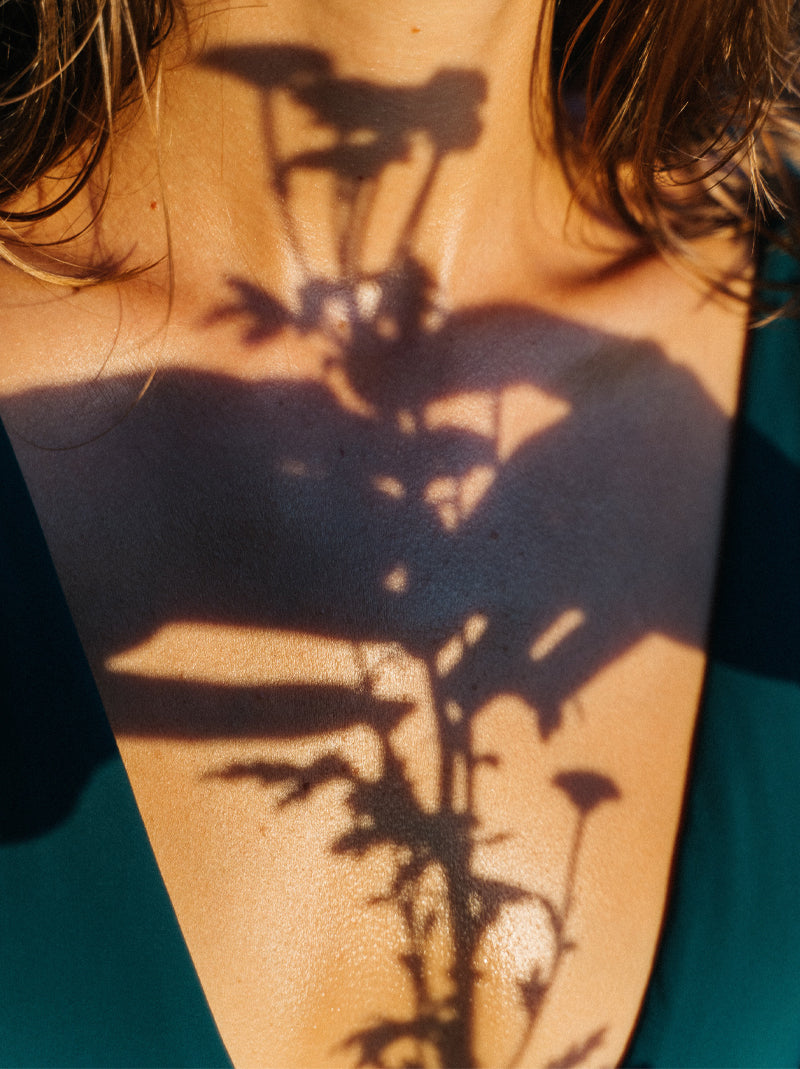 Culture
Edge of Ember is focused on championing women in all areas of the business. This looks like everyone from our female customers, to the women we reach through our charity partnerships with Women for Women, Solace Women's Aid and Malala Fund. Everyone has a role to play in gender equality and as a business we need to utilise our platform to empower women. We've joined the UN's Women's Empowerment Principles because we believe unlocking every woman's potential across the globe could hold the key to a better future. 
We are equally committed to promoting diversity and inclusivity through Edge of Ember. This is a constant touchpoint for us when making business decisions and planning campaign activities throughout the year. We do not tolerate discrimination of any kind; whether it be related to race, religion, gender, age, physical or mental disability, political opinion, parenthood or any other classification of discrimination. 
We work hard to embed our social and environmental values within our team, so that every member of the business is working towards driving responsible changes and improvements. This includes the little things, too – like ensuring as much of our office waste is recycled as possible, going paperless where we can, reducing plastic usage and using rechargeable tech accessories. Twice a year, the UK-based team is expected to act on the environmental and social initiatives in our Employee Handbook; including collecting food and arranging donations to local food banks, organising team days out planting trees and charity fundraising events.
It's all good stuff, if we do say so ourselves. But there's always more we can do – here are the new culture-focused goals we're setting out to achieve by 2025: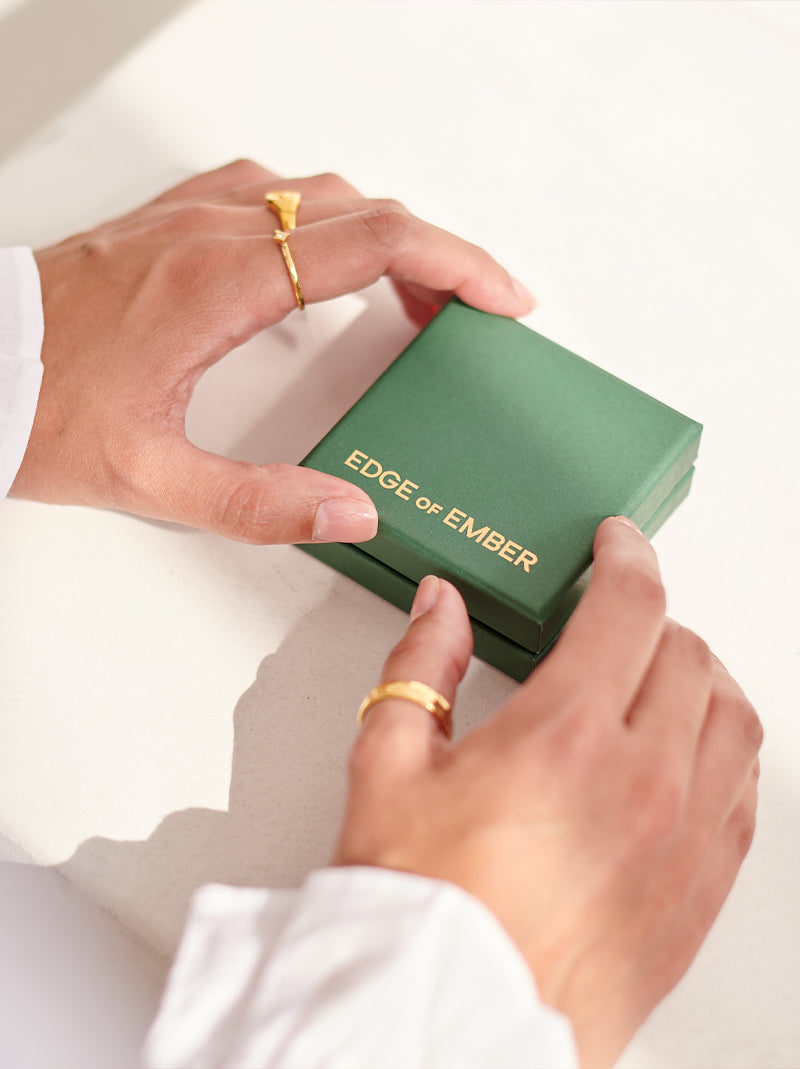 Our future goals
GOAL 6:
Continue our existing fundraising initiatives with our female-focused charity partners to empower women and expand upon these throughout 2022 and into 2023. 
GOAL 7:
Implement a training and education programme available to all staff so that they can develop relevant skills, for instance in management or more technical areas, to benefit them in their wider career.
GOAL 8:
Introduce a volunteering policy and encourage staff to use volunteering days by organising opportunities with our charity partners.
GOAL 9:
Train all staff on our updated responsibility strategy to empower them to support it in their day-to-day tasks. 
GOAL 10:
Review operational processes quarterly and introduce new steps to reduce our environmental impact.
GOAL 11:
Start bi-annual environmental and social initiatives within the EoE team to give back to our communities and embed responsibility within the team.
GOAL 12:
Review employee pensions and ensure they're invested in ethical funds.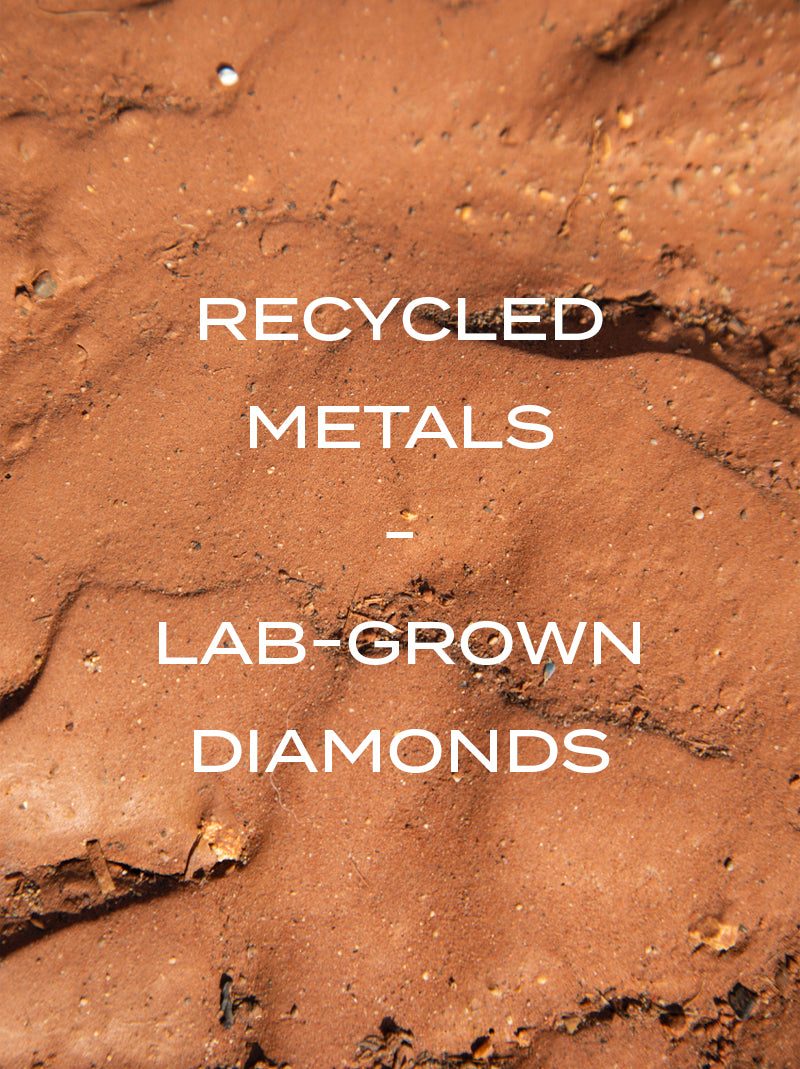 Materials
We made the decision in 2019 to switch to using recycled metals due to the reduced environmental impact of working with materials that are already in circulation. We started implementing this in new collections and have now transitioned all of our collections over to using recycled gold and silver, where possible. 
Sadly, one thing we have learnt during this process is that it is near-impossible to guarantee that 100% of your metals come from recycled sources, due to the methods used in the gold- and rhodium-plating process. So, no, we're not there yet, but we're certainly striving for perfection – and once we know how to reach 100% we'll make sure it happens. We are working closely with these suppliers to reach that 100% recycled metals mark, and for this to be third-party certified.
We're proud to say we've never used mined diamonds due to the murky supply chain associated with them. We have worked exclusively with lab-grown diamonds since we launched our first diamond collection in 2019. Physically, chemically and aesthetically identical to their mined counterparts, lab-grown diamonds are created above the ground, avoiding all the negative impacts of mining. 
We have since extended our Conscious Diamonds collection and will continue to work exclusively with lab-grown diamonds. These are sourced from a factory in India which is run on 60% renewable energy. We are looking at ways we can support our supplier to increase this to 100%, but in the meantime we've been investing in carbon offsetting projects to balance any emissions released during production.
Sourcing ethical gemstones is one of the biggest difficulties in the jewellery industry and it's something we're keen to iron out as soon as possible. We are working with our suppliers to improve the transparency of our supply chain and striving to get full visibility of the source of all gemstones we use. 
Our packaging and all printing collateral is made out of 100% FSC certified paper (supplied by big mills including G.F.Smith Papers and Neenah), which we have found to be the most trusted source of paper to work with. Sadly, it's not uncommon for recycled paper suppliers to buy new paper and reuse it themselves in order to keep up with the demand for recycled stocks. FSC certified paper, however, is fully traceable back to the exact forest the trees were taken from and is the most sustainable option. All FSC certified forests are sustainably managed to prioritise optimal carbon absorption, and with new trees planted in place of the ones cut and used for paper and wood – find out how it all works here.
As always, there's more we can do to improve the sustainability of our materials. Here are the eight goals we are working towards from now: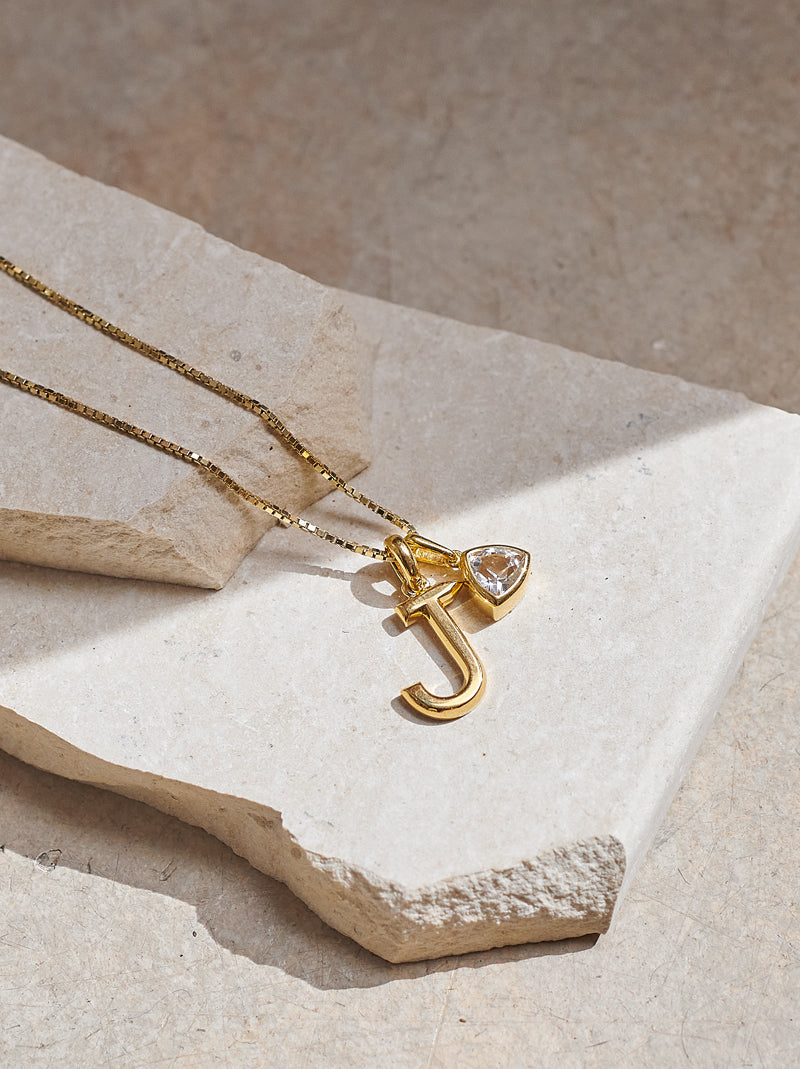 Our future goals
GOAL 13:
Implement a detailed sourcing policy that stipulates our minimum requirements for materials and suppliers we work with and uses third-party certifications to back up claims.
GOAL 14:
Explore the option of introducing more lab-grown stones into our collections or working with reclaimed stones to move away from mined stones where possible.
GOAL 15:
Explore other recycled materials that we could work with and new ways for them to be incorporated into our collections.
GOAL 16:
Work with our lab-grown diamonds suppliers in transitioning to 100% renewable energy sources.
GOAL 17:
Investigate our gemstone sourcing, carry out risk assessment of current supply chain and implement a game plan to work with suppliers on increasing transparency. 
GOAL 18:
Map out the supply chain of our pearls, enamel and beads to get a better understanding of their origins and impact.
GOAL 19:
Transition to a reusable, sustainably-made alternative to the foam cushion in our current jewellery boxes.
GOAL 20:
Incorporate the FSC certified logo on our printed collateral for full traceability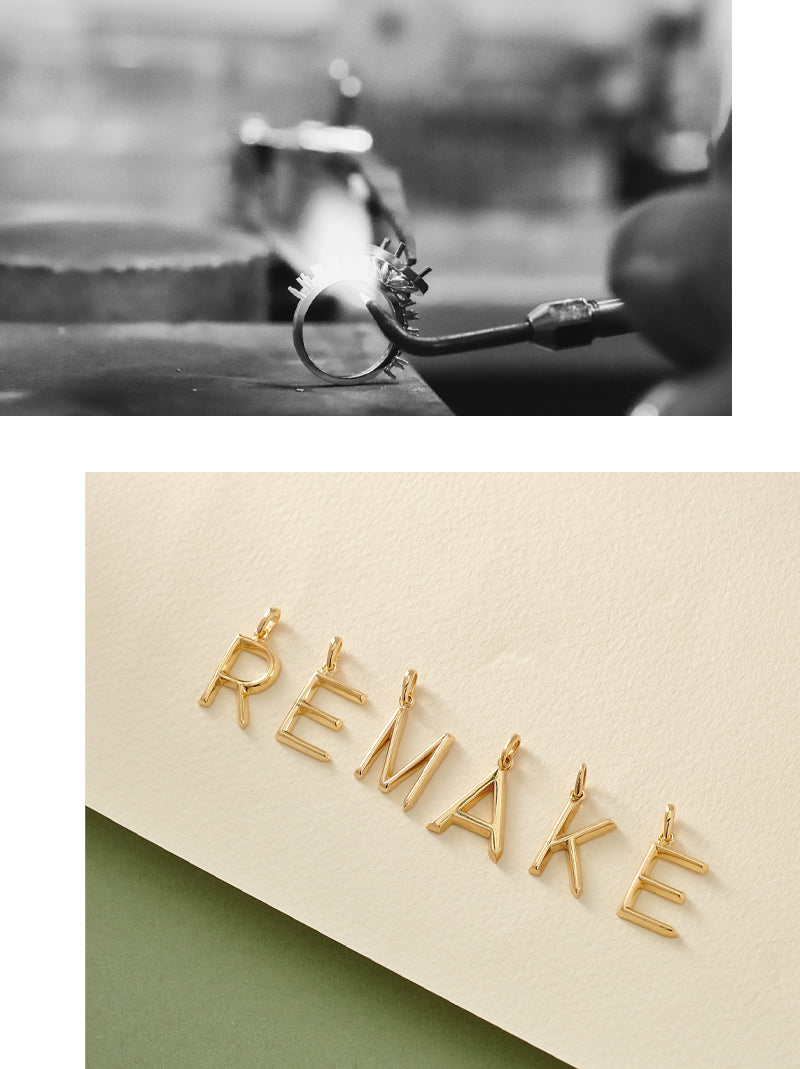 Circularity
We launched our Re/Make Jewellery Recycling Programme in 2020, the first of its kind in the UK. This is an easy way for customers to recycle their unwanted silver and gold jewellery, in return for store credit, that also helps us to put old metals back into the supply chain. 
Our decision to work with recycled metals was also a big step in design circularity. Since there's plenty of gold and silver already in circulation, this reduces the need to continue mining for these precious metals. 
Along with the jewellery sent to us through the RE/Make programme, any deadstock or faulty products we end up with due to manufacturing issues or misjudged stock ordering are recycled. We work with a wholesale supplier and metal refinery who melts down the product and re-forms it into metal rods that are then sold on to be used in jewellery making. In 2021 we recycled 35.5g of gold and 1.35kg of sterling silver. 
Of course in 2022, we hope it will be even more. And by 2025? Well, we have set ourselves yet more challenging but achievable goals, because we believe everyone should be thinking about the post-consumer part of a product's journey, too.
Here's what we are working towards for 2025: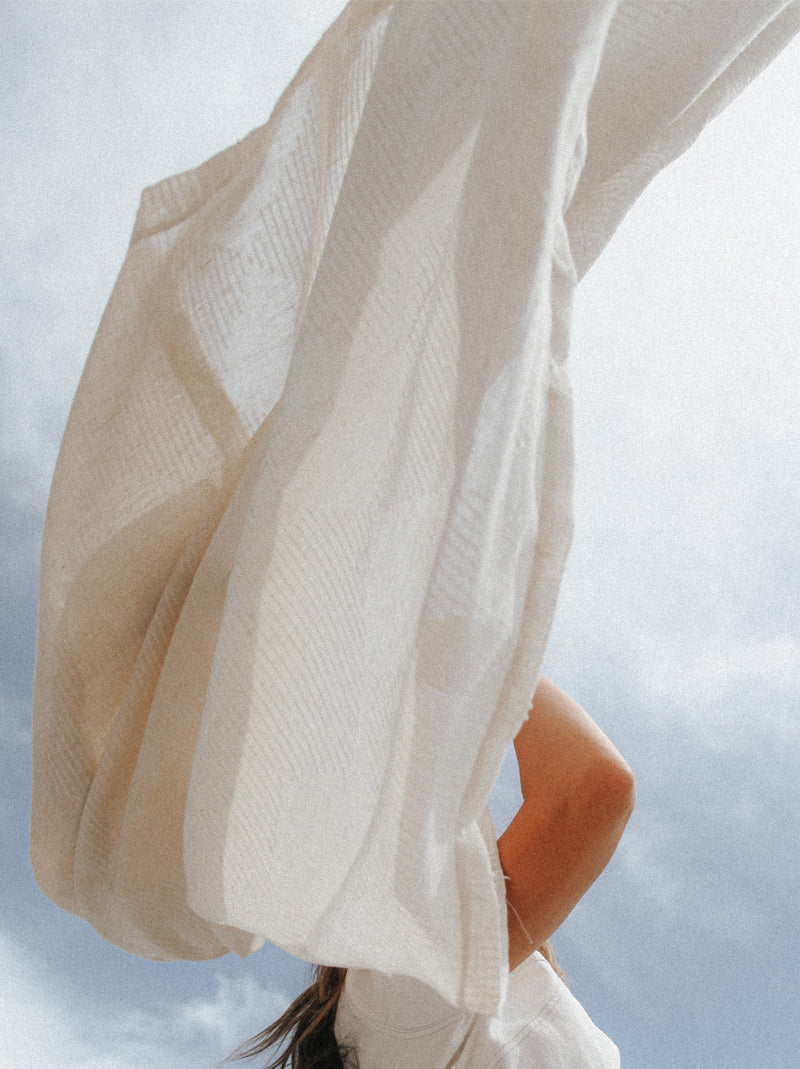 Our future goals
GOAL 21:
Look at the design process and evaluate different ways we can introduce more circularity.
GOAL 22:
Launch a lifetime cleaning, repairs and replating service.
GOAL 23:
Launch a jewellery cleaning kit, available to purchase to extend the lifetime of your piece.
GOAL 24:
Look into sourcing post-consumer gemstones to incorporate into our collections.
GOAL 25:
Explore introducing a collection made from vintage and repurposed jewellery or materials.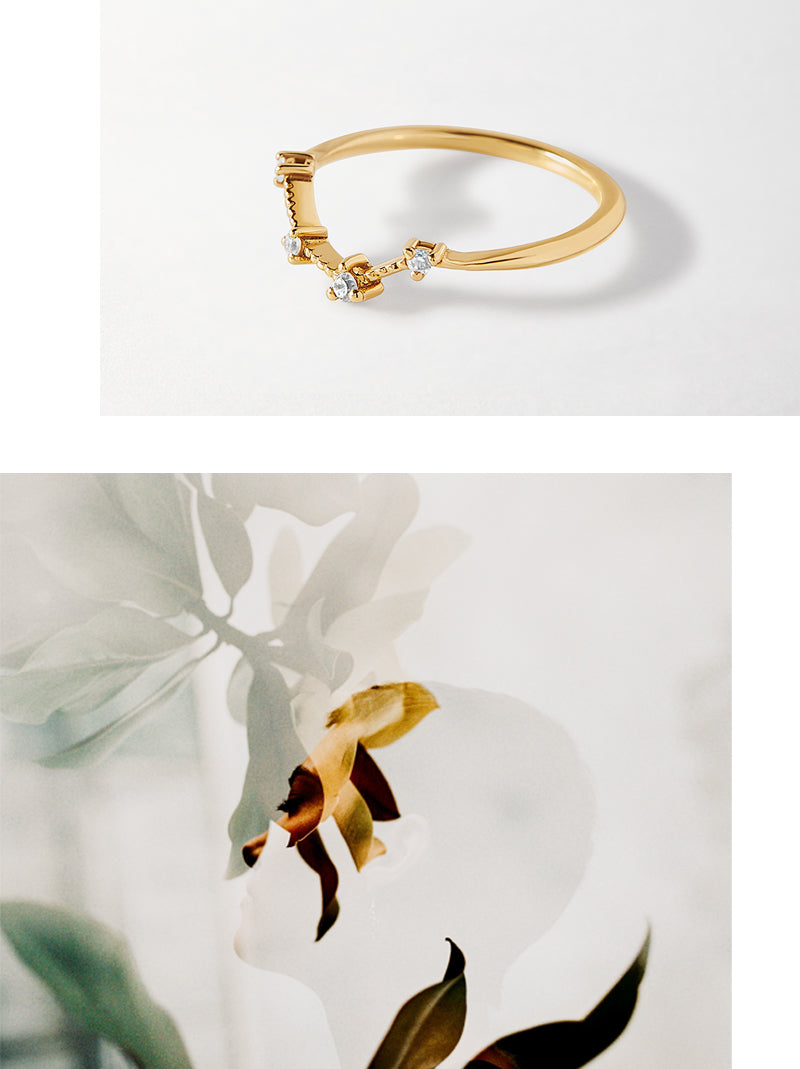 Carbon
From our LCA we found that 82.4% of our carbon footprint comes from material acquisition. Obviously, to an extent this is unavoidable as we need materials to make our products – but what we can do is be smarter about our material choices.
By choosing to work exclusively with lab-grown diamonds in our Conscious Diamonds collection we have reduced our carbon footprint by 307 tonnes of C02 emissions per kg. That's the equivalent to powering 59.7 homes for one year. While the production process of lab-grown diamonds is energy intensive, the C02 emissions produced from mining diamonds are still much greater, so there is a clear environmental benefit to working with the lab-grown alternatives. 
We source our lab-grown diamonds from a supplier in India which is run on 60% renewable energy. We know this isn't good enough, so we're working on a solution to use diamonds which are produced using 100% renewable energies. Watch this space!
As we mentioned before, we switched to recycled metals because we knew it wasn't necessary to continue mining raw materials from the earth. Looking at the data from our LCA, we can see this has a knock-on effect: it's reduced our carbon footprint by 42.72% (compared with using mined materials). This is a huge CO2e saving and really encouraging to see our decisions having a positive impact in this way. We're constantly striving to build on that saving; working with suppliers to increase the percentage of recycled metals in our products and exploring other ways to use recycled materials.
This year we have partnered with Vaayu, a new tech platform that integrates with our website to calculate our carbon footprint in real time. It currently pulls data from our deliveries, operations, website and packaging to give a live view of the carbon emissions we're producing. This tool will enable us to analyse where we have the biggest impact and develop a clear carbon reduction strategy for each area of the business. 
We're also working with Vaayu to pull together data on our core products, which will give us an understanding of the exact impact each piece has on the planet. Soon, we hope to be able to illustrate a complete product breakdown and identify their carbon footprint at different parts of the production journey. Using both the Vaayu tool and our LCA findings, we will be able to evaluate all the data and make incredibly precise decisions about where and how we can reduce our footprint. 
Now we have so many great tools at our disposal, here's where we are hoping to be in our carbon footprint journey by 2025: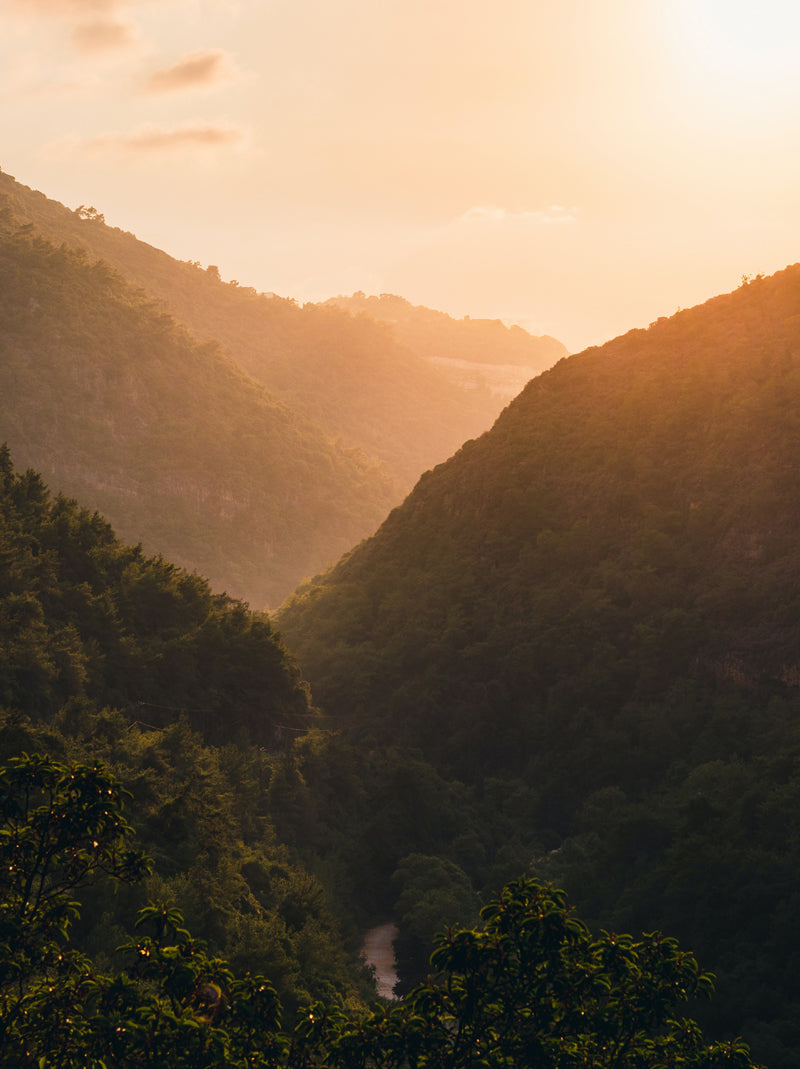 Our future goals
GOAL 26:
Map out a clear carbon reduction plan and targets to achieve net zero by 2030.

GOAL 27:
Work closely with our suppliers to reduce the footprint of our material sourcing.

GOAL 28:
Explore other innovative materials we could work with in our new collections in order to reduce our carbon footprint.

GOAL 29:
Work with Vaayu to visually represent the carbon footprint breakdown of our core products from sourcing of materials to delivery to the customer.

GOAL 30:
Work closely with suppliers to encourage renewable energy switches where possible

GOAL 31:
Continue to offset our yearly carbon footprint in balance with our carbon reduction plan.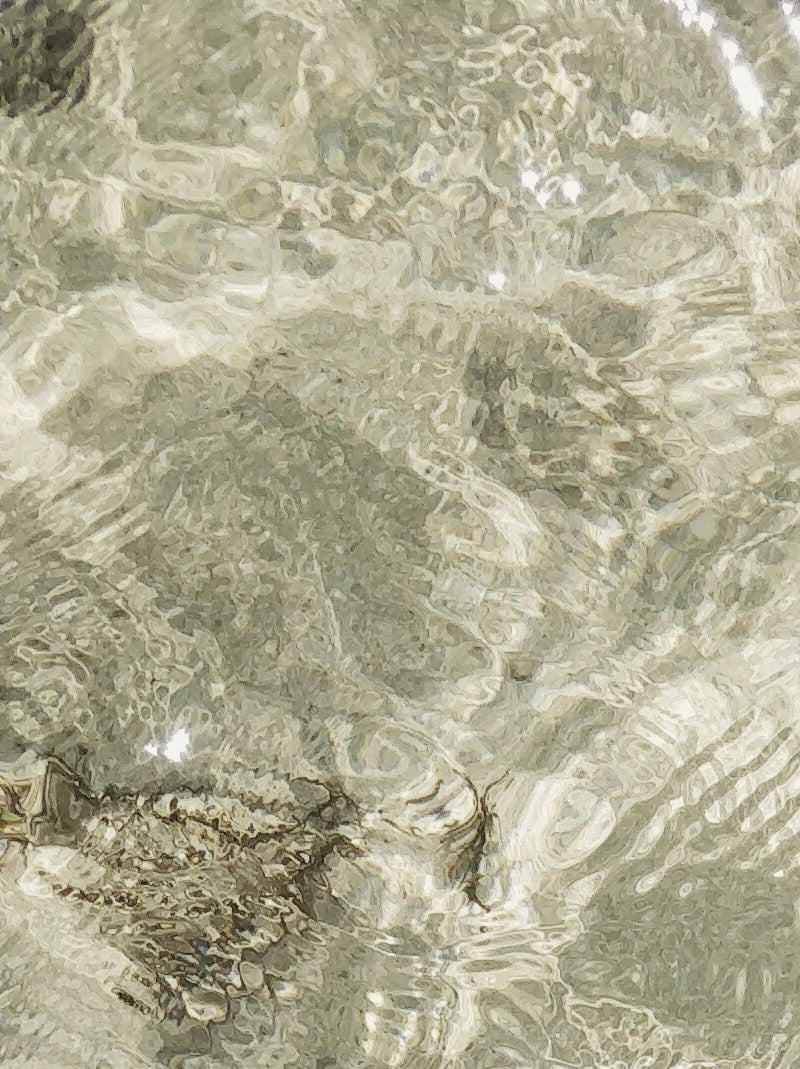 Waste
Our jewellery is packaged in plastic zip-lock bags to protect the polished surfaces from scratches during transit and storage. We've set up a recycling process, whereby used bags are sent back to our suppliers ready to use as packaging for new orders, in order to reduce unnecessary plastic waste. 
We run bi-annual charity sample sales, with 100% of proceeds going to one of our charity partners. These sample sales include products with minor defects alongside design and production samples. Any pieces we don't manage to sell are always recycled through the UK-based metal refinery we work with. There, silver and gold pieces are melted down and reformed into metal rods; they are then ready to go back into the supply chain and be used to make new jewellery. 
Our UK-based studio is currently in a co-working space in North London. This company has a waste management system in place and works with a local waste management factory. We will be moving to our own independent office in 2022; and when we do, we'll be implementing our own stringent waste management plan. 
Here are some the other goals we are working towards from now, with hopes to significantly reduce waste by 2025: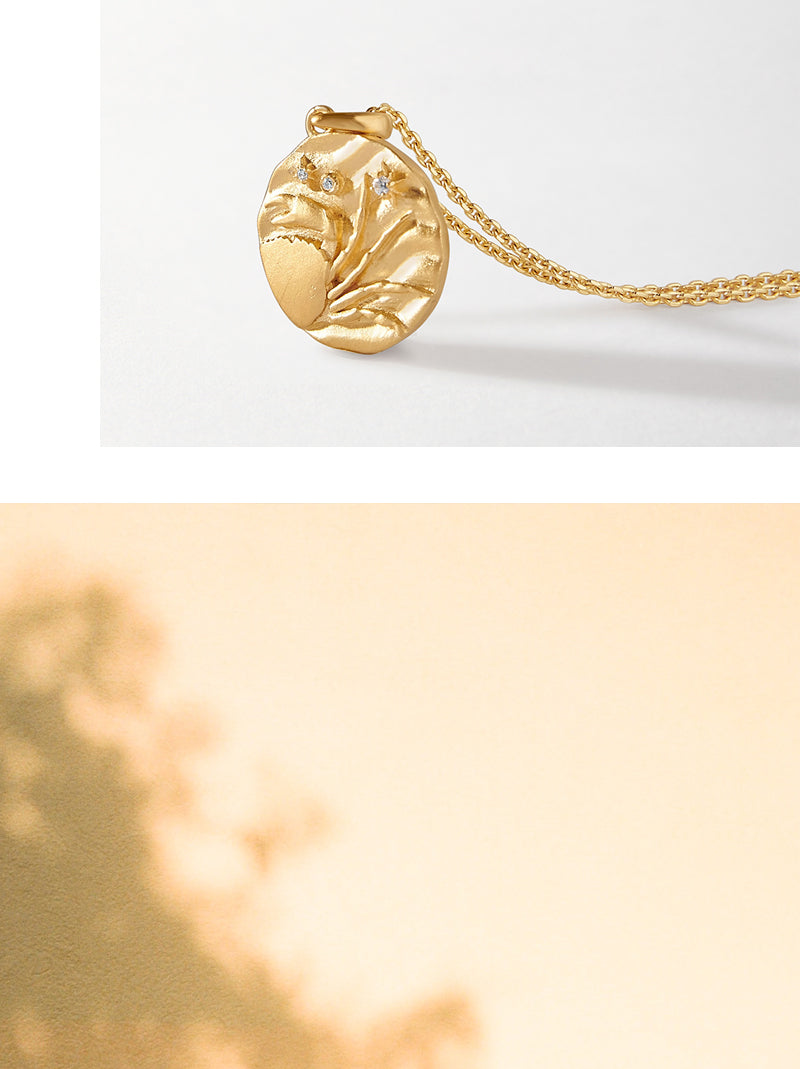 Our future goals
GOAL 32:
Add a reduced packaging option at checkout to give customers the opportunity to choose less jewellery boxes and printed collateral in their deliveries. 
GOAL 33:
Work with suppliers to reduce the amount of packaging used in deliveries.
GOAL 34:
Transition our UK-based fulfilment process to go completely paperless in the picking and packing process.
GOAL 35:
Work with our suppliers and UK-based operations team to eliminate plastic usage.
GOAL 36:
Put a waste management plan in place for our UK office.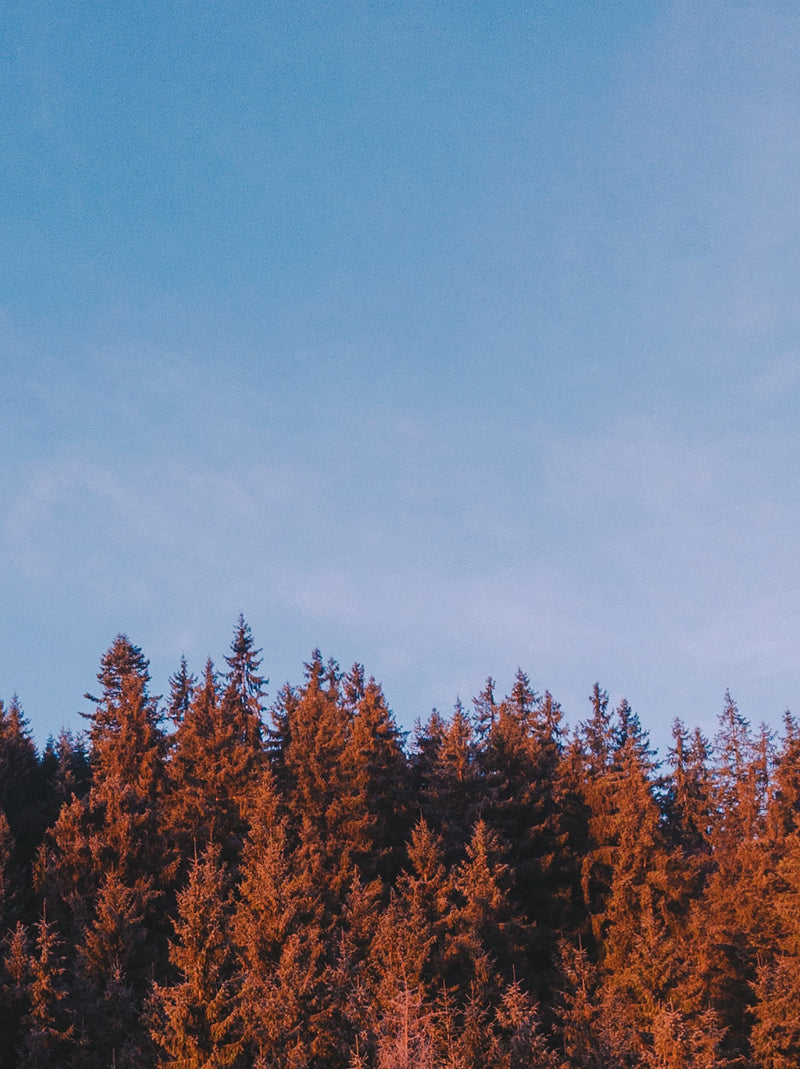 Commitment
We have always been committed to investing in carbon offsetting. We launched our first ever offsetting initiative in 2018 over Black Friday, a retail event which has a massive strain on the environment due to the millions of orders being delivered across the globe. Yep, we threw ourselves in at the deep end!
From that point we have grown our carbon offsetting initiative and now offset our year-round carbon footprint by investing in global initiatives which do incredible work around the world (find out more about our carbon offsetting projects here). We've come to realise in the last year that solely offsetting carbon isn't going to solve the climate issues we face. You have to treat the cause, not just the symptoms, and get to the root of the problem and truly make a difference. Following this report, we're getting to work on mapping out a clear carbon reduction plan – with smart, achievable goals that we can balance with our offsetting initiatives – with the aim to become a net zero business by 2030.
Last year we started working on the B Impact Assessment with the goal of becoming B Corp Certified in the future. It's a highly respected certification for businesses and something we're really keen to achieve – we will keep our community updated on how soon we can hit that milestone. 
As a brand in the public space, we understand that we have a platform that we can use for good. Charity partnerships have been core to our business plans for a long time. We've collaborated with some amazing charities on bi-annual charity sample sales, through dedicated product collaborations and by donating portions of sales over a certain period. Last year we managed to raise a total of £9,240 for our 2021 partner charities: Women for Women, Solace Women's Aid, little lifts and Help India Breathe.
We are so passionate about fundraising opportunities like this, which is why we've set up the Edge of Ember fund. Through this fund we will work with grassroots organisations that tackle issues we feel strongly about – which include protecting the environment, protecting women against violence, working towards gender equality, fighting racial discrimination, educating girls around the world, and so much more. At the moment we work with four registered charities: Malala Fund, Solace Women's Aid, Women for Women International and WWF. 
So now you've seen the causes we're currently committing to, here's the list of promises we're adding to that over the next few years: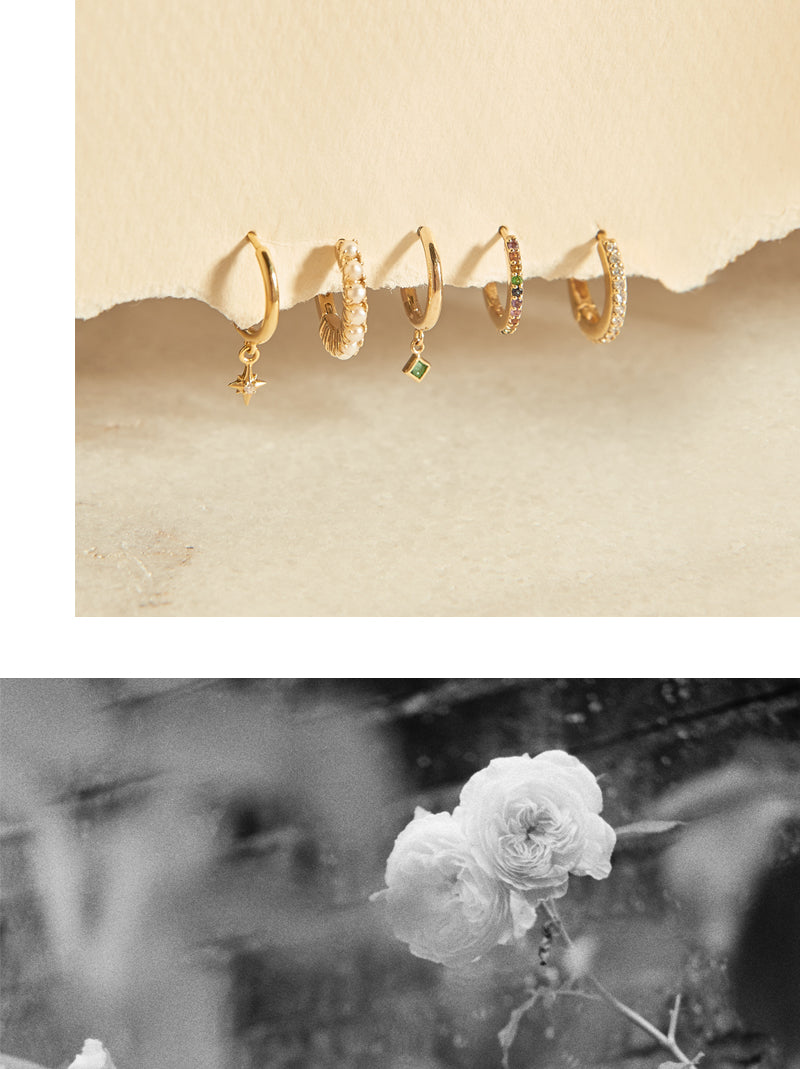 Our future goals
GOAL 37:
Achieve B Corp status
GOAL 38:
Communicate our carbon reduction strategy with our audience and publish progress reports.
GOAL 39:
Commit to donating to charity partners through the Edge of Ember fund each year, starting with £8,000 in 2022.
GOAL 40:
Implement bi-annual reviews of our social and environmental policy and the goals mapped out in this report.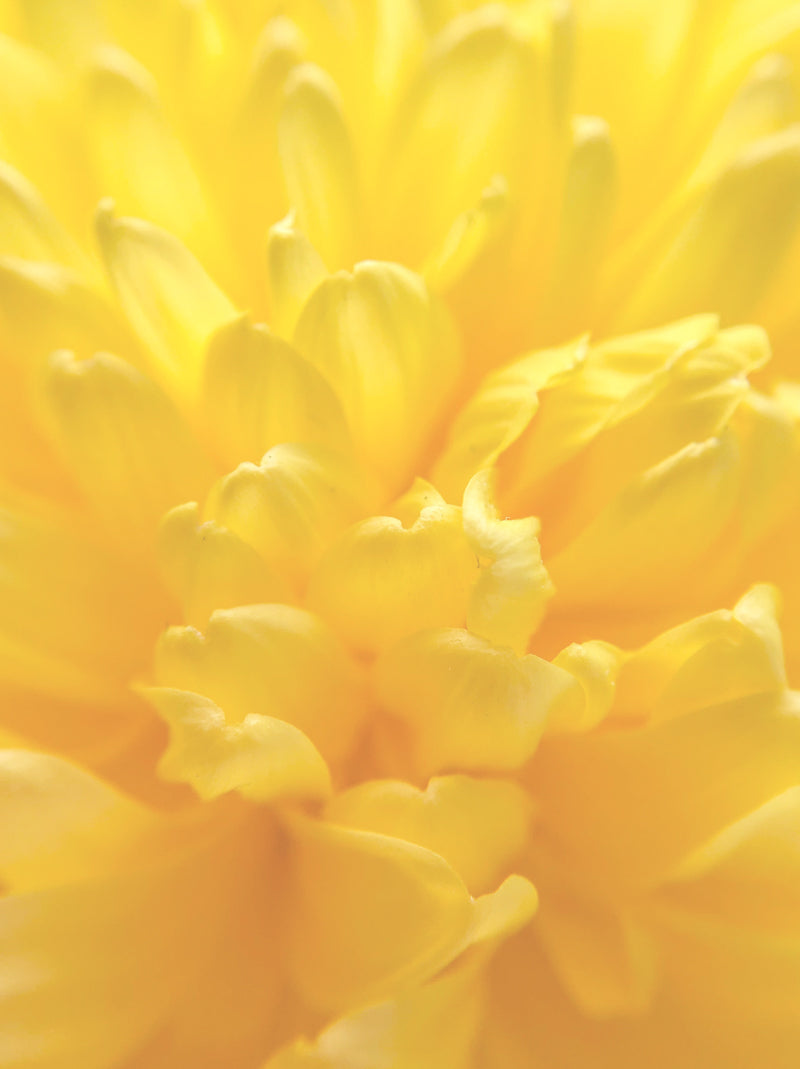 Transparency
We aim to partner with suppliers who share our same values of transparency and social and environmental responsibility. Transparency isn't something that is commonly practised in supply chains yet (the traditional way of working within production is to protect your reliable supplier contact book), so it is a work-in-progress. We don't have full supply chain transparency yet; but we do make sure we have close relationships with our suppliers, and are committed to improving the visibility of our production at every touch point, so that we can be more transparent with you. 
As a starting point we have been working on this map below, to give you a visual representation of where all of our suppliers are based, plus where all of our materials are sourced from. 
Here's how we are planning to work towards full transparency in the next few years: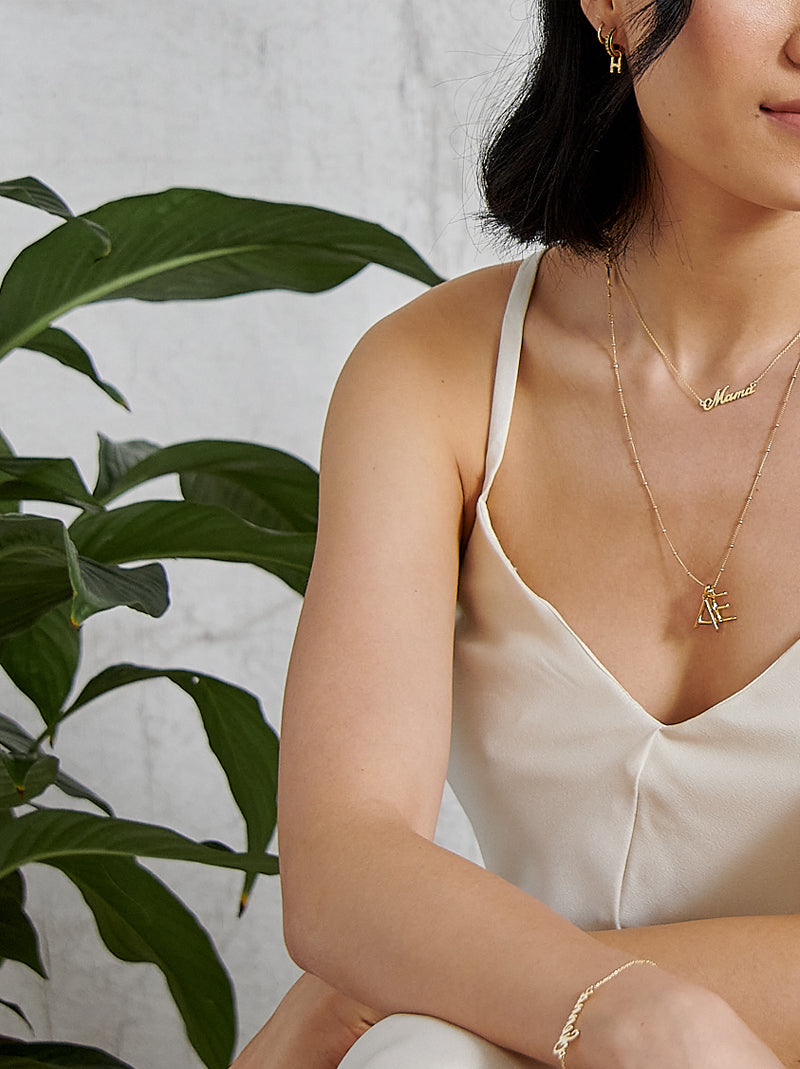 Our future goals
GOAL 41:
Sign up to the Fair Luxury 2022 Pledge. 
GOAL 42:
Publish a map of our full supply chain
GOAL 43:
Publish the lifecycle of our core products.